Latest news
Contact us
ADD: Room 15P,Tower B,Duhui 100 Mansion,Zhonghang Road,Futian District,Shenzhen City,Guangdong Province,P.R.China
TEL: 020-0755-23488844
FAX: 020-0755-23488844
E-mail: vicaudio@msn.cn

> Amplifiers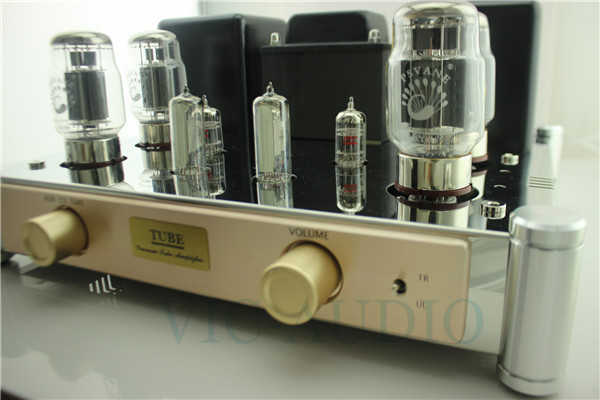 KT88 Tube Amp Push-Pull Class A amplifier Finished Product 12AT7 12AU7 6E2 Tube Hifi Stereo Audio Vacuum Tube Power Amplifer
Output Power: 35W × 2 (triode connected)
Input Sensitivity: 800mV
Frequency Response: 25Hz - 45KHz
signal to noise ratio: 89 dB
Product description: KT88 Tube Amp Push-Pull Class A amplifier Finished Product 12AT7 12AU7 6E2 Tube Hifi Stereo Audio Vacuum Tube Power Amplifer
Product introduction
KT88 Tube Amp Push-Pull Class A amplifier Finished Product 12AT7 12AU7 6E2 Tube Hifi Stereo Audio Vacuum Tube Power Amplifer
kt88-98 new push-pull amplifier.
Technical parameters
Output Power: 35W × 2 (triode connected).
60W × 2 (ultra-linear connection).
Frequency Response: 25Hz - 45KHz.
Input impedance: 4,8 Ω.
signal to noise ratio: 89 dB.
Input Sensitivity: 800mV.
Total Harmonic Distortion: ≤ 1% (1kHz).
Input Sensitivity: 800mV.
Input impedance: 100KΩ.
Weight: about 18Kg.
Package Weight: 20 Kg.
Dimensions: 410 × 370 × 190MM..
packaging volume: 560 × 480 × 340MM.
Input voltage: 220/230V 50Hz/60Hz,
Product design and requirements :
1.12AT7 voltage tube amplifier, 12AU7 current drive rectifier, KT88 x4 push-pull power output tubes.
2.500W power supply cattle adequate supply of energy output,114-80 cattle imported to meet the large dynamic core when.
3.80W design output of cattle, 5 3 tightly sandwiched around a thin, layered staging, primary, secondary series parallel wiring, hiding cow foot high output and low leakage inductance characteristics, high silicon iron imported 0.35, stack thickness 96-50 core manufacturing.
4. Volume potentiometer, we directly employ ALPS made of pure graphite film series in Japan, with about balance is high, warm sound, good dynamic characteristics, the non-South Korea Taiwan brand products can be compared.
Product Process and Technology
Handmade scaffolding welding, there is concise and easy process, traces short, simple upgrade change material.
Iimported stainless steel chassis. Have a look gorgeous, durable, can not afford not peeling paint and so on.
Japan ALPS volume potentiometer exclusive five-year warranty for this component can be assure long life.
Triode connection or Ultra-linear connection switch, the perfect balance of strength and beauty to play a push-pull machine.
Using internationally accepted 12AT7/12AU7 tube. Easy to upgrade, upgrade potential.
Professional touch with stereotypes cow hood, there is an arc shape mellowed.
Achieve internationally accepted proof output transformer potting process can not damp decade, high stability, and durability.
The unique structure of the four corners of the aluminum pole resonant principle, with the traditional bottom machine foot structure will have excellent stability and reliability.
Please note: 110V products may need to wait for 5-10 days. So, please consult the seller.